October 1, 2021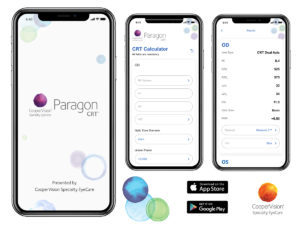 SAN RAMON, Calif. — CooperVision Specialty EyeCare has launched a new mobile app — the Paragon CRT Calculator — geared specifically toward simplifying the fitting process for Paragon CRT and CRT Dual Axis lenses.
"As industry trends and demands continue to change, we are further strengthening our partnerships with the specialty eye care community by providing doctors with the tools and resources needed to succeed," said Juan Carlos Aragón, OD, President, CooperVision Specialty EyeCare. "With the introduction of the Paragon CRT Lens Calculator mobile app, ECPs can more confidently fit our lenses on a range of patients, and ultimately, grow their practice."
Through the app, ECPs will be able to seamlessly calculate lens parameters in just a few clicks, thereby reducing chair time and allowing ECPs to serve patients more efficiently. In addition, ECPs can share the app recommendations with CooperVision Specialty EyeCare's customer service team to streamline the ordering process.
"Fitting Paragon CRT and CRT Dual Axis has never been as quick or easy as it is now," said Kelly Voltz, OD, FAAO, FSLS, Senior Manager, Professional and Clinical Affairs, CooperVision Specialty EyeCare. "The Paragon CRT Calculator is an accessible, on-the-go tool that empowers practitioners to design the optimal lens for any patient with confidence, and in a matter of seconds." Dr. Voltz was instrumental in the development of the app from a clinical perspective.
For practitioners interested in the Paragon CRT Calculator, the app is free to download on both the Google Play Store and the Apple App Store.