July 13, 2023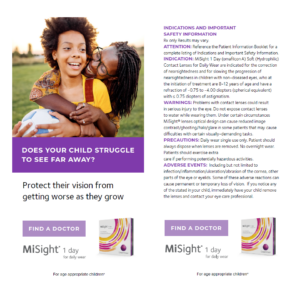 SAN RAMON, Calif. — At this year's Vision Expo East event, CooperVision announced its latest myopia management campaign, "Make Children's Sight Your Fight." Now, the company has launched the consumer-facing portion of the campaign ahead of the  back-to-school season.
Rooted in new research that identifies how U.S. parents are seeking information about myopia  progression, the campaign uses a three-pronged approach to generate  awareness, educate and inform, and drive action with parents and eye care professionals.
Through significant strategic investments and content partnerships, CooperVision is educating and actively engaging consumers through a comprehensive digital ecosystem with enhanced content across YouTube, Facebook, Instagram, and MiSight.com. A compelling and urgent message emphasizes the need for parents to schedule a comprehensive eye exam for children prior to their return to school. In addition, a collaboration established with a leading U.S. consumer health care website will deliver articles, videos, and slideshows on myopia and eye-health related content to site visitors seeking information about the disease. The company is also working with national and local market journalists to develop broadcast, streamed, digital, and print feature stories to bring attention to the issue.  
"We've been inspired by the enthusiastic response to the March ECP-focused launch of the 'Make  Children's Sight Your Fight' campaign and practitioners' heightened commitment to early  treatment for as many kids as possible," said Melissa Kiewe, Vice President of Marketing, Americas, CooperVision. "During this consumer phase, CooperVision is providing parents and caregivers with the resources they need to understand the disease and help them identify and connect with thousands of MiSight 1 day-certified doctors across the country."
MiSight 1 day is the first and only soft contact lens approved by the FDA* to both correct vision  and slow the progression of myopia in children aged 8-12 at the initiation of treatment.†1 
"With myopia expected to affect nearly 50% of North America's population by 2030,2 CooperVision  strongly advocates for early intervention to slow the progression of this disease. We're confident that the new messaging and materials we're providing to parents, and the investment we're making to widely share them, will help address this epidemic and safeguard the visual health of our children," said Kiewe. 
Both parents and ECPs are encouraged to visit https://coopervision.com/practitioner/ecp viewpoints/myopia-management for informational resources.
References
* U.S. Indications for Use: MiSight 1 day (omafilcon A) soft (hydrophilic) contact lenses for daily wear are indicated for the correction of myopic ametropia and for slowing the progression of myopia in children with non-diseased eyes,  who at the initiation of treatment are 8-12 years of age and have a refraction of -0.75 to -4.00 diopters (spherical  equivalent) with ≤ 0.75 diopters of astigmatism. The lens is to be discarded after each removal. 
† Compared to a single vision 1-day lens over a three-year period. 
1 Chamberlain P, et al. A 3-year Randomized Clinical Trial of MiSight Lenses for Myopia Control. Optom Vis Sci.  2019; 96(8)556-567. 
2 Holden BA, et al. Global Prevalence of Myopia and High Myopia and High Myopia and Temporal Trends from 2000  to 2050. Ophthalmology. 2016; 123(5): 1036-1042.