June 1, 2023
By Dwight Akerman, OD, MBA, FAAO, FBCLA, FIACLE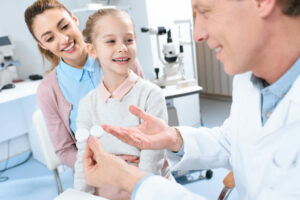 In addition to accurate correction of refractive errors, soft contact lenses (SCLs) can provide children with various benefits compared to spectacles, including improvements in vision quality, self-perception, and quality of life. Despite these potential benefits, only a small proportion of SCL fittings are for children aged 14 years or under. The limited SCL fits among children may reflect concerns of eye care professionals and parents about complications and ocular health, handling, chair time, compliance, and costs.
Few studies have compared children's subjective experience between myopia-control SCLs and single-vision correction. Fewer still have compared this among children crossing over between single-vision SCLs and myopia-control SCLs. 
Lumb et al. evaluated the subjective experiences of children wearing single-vision or myopia-control daily disposable SCLs, including daily wear time, perceived vision quality, ease of handling, and overall satisfaction. Moreover, this six-year study compared experiences between those fitted with myopia-control lenses and a matched cohort who transitioned from single vision to myopia-control lenses at the three-year study mid-point.
The study found that myopic children, aged 8 to 12 years at the initial fitting, adapt well to full-time daily disposable SCL wear and can easily switch from single-vision SCLs to dual-focus myopia-control SCLs (MiSight 1 day). Throughout the study, children reported long wearing times and rated SCL wear highly. The results suggest that children can achieve wearing times equal to those of adults. Wearing times increased in Part 2 (14 vs. 13 hrs./weekday; 13 vs. 12 hrs./day on weekends; P < 0.001); there were no differences between groups.
The researchers concluded that daily disposable SCLs are well accepted by children, regardless of the lens's optical design. Children can handle their SCLs, achieve full-time wear, and prefer their SCLs to spectacles. SCLs are rated highly for all aspects of the wear experience, including handling ease, comfort, vision, and overall satisfaction, and this continues when switching from a single-vision lens to MiSight 1 day, a dual-focus, myopia-control design.
Abstract
Six Years of Wearer Experience in Children Participating in a Myopia Control Study of MiSight 1 Day 
Elizabeth Lumb, Anna Sulley, Nicola S Logan, Debbie Jones, Paul Chamberlain 
Purpose: To evaluate the experience of children wearing soft contact lenses (SCLs) during a trial of MiSight 1 day (omafilcon A, CooperVision, Inc.), a dual-focus myopia-control daily disposable SCL. 
Methods: A 3-year, double-masked, randomized trial (Part 1) comparing experiences with MiSight 1 day and a single-vision control (Proclear 1 day, omafilcon A, CooperVision, Inc.) of neophyte, myopic children (ages 8-12). Treatment (n = 65) and control (n = 70) participants received lenses at sites in Canada, Portugal, Singapore, and the U.K. Successful participants completing Part 1 were invited to continue for a further 3 years wearing the dual-focus CL (Part 2), and 85 participants completed the 6-year study. Children and parent questionnaires were conducted at baseline, 1 week, 1 month, and every 6 months until the 60-month visit, with children also completing questionnaires at 66 and 72 months. 
Results: Throughout the study, children reported high satisfaction with handling (≥89% top 2 box [T2B]), comfort (≥94% T2B), vision (≥93% T2B for various activities), and overall satisfaction (≥97% T2B). Ratings for comfort and vision were not significantly different between lens groups, visits, or study parts and did not change when children switched to dual-focus SCLs. Ratings for 'really easy' or 'kind of easy' application improved from the outset for the neophytes (57% at 1-week follow-up and 85% at 1-month follow-up) and remained high throughout the study (visit: P = 0.007; part: P = 0.0004). Overall satisfaction improved in Part 2 (P = 0.04). Wearing times increased in Part 2 (14 vs. 13 hrs/weekday; 13 vs. 12 hrs/day on weekends; P < 0.001); there were no differences between groups. 
Conclusions: Children adapted rapidly to full-time wear, rated lenses highly, and rarely reported issues. The dual-focus optics included in the MiSight 1 day lenses successfully achieved myopia control without lowering subjective ratings when fitted to neophytes or children refitted from single-vision SCLs. 
Lumb, E., Sulley, A., Logan, N. S., Jones, D., & Chamberlain, P. (2023). Six years of wearer experience in children participating in a myopia control study of MiSight 1 day. Contact Lens and Anterior Eye, 101849.
DOI: https://doi.org/10.1016/j.clae.2023.101849