March 15, 2023
By Matthew J. Martin, OD, FIAOMC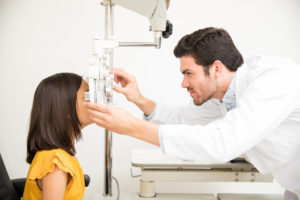 Subjective
A 12-year-old female Asian patient "WG" was referred to our office by a colleague for myopia management options. The patient presented with a history of wearing single-vision soft contact lenses and spectacles. It was noted that her myopia was increasing very rapidly. 
Objective
The patient's habitual prescription was six months old. Her entering visual acuities with her habitual spectacles were as follows:
-8.50D -1.50D X 170 20/30-
-8.50D -1.50D X 180 20/40
WG presented with a family history of myopia as both parents were nearsighted with spherical equivalent prescriptions of -6.50D and higher.1 WG's nearsightedness began at about age 6 and escalated quickly. Her health history was unremarkable, although it was noted that her social history indicated an interest in near activities such as gaming, reading, and extensive phone usage, even at bedtime.2 It was also noted that she had very little outdoor time.3
Manifest and Cyclopentolate Refraction:
-9.50D -1.00D X 165 20/20
-9.75D -1.00D X 175 20/20
Axial length (AXL) as measured with A scan biometry:
OD: 26.56 mm ± .02
OS: 26.76 mm ±. .02
Slit lamp and internal findings were unremarkable. Retina was healthy and unremarkable. 
Topography:
flat corneas with flat k's of 40.00 and 40.50, respectively 
Diagnosis
Rapidly Progressing Myopia. Risk factors included: high familial myopia, early age of onset, reduced outdoor activity, significant near work, extensive cell phone usage, and Asian descent.4
Plan
The first step was to counsel the family about the basic science of myopia management. I spoke at length about visual hygiene: more outdoor time, reducing phone usage, respecting longer working distances, and not using the phone in bed at night. I also discussed healthy nutrition and adequate sleep time, as I feel this also positively impacts myopia management.  
I am a dedicated orthokeratology practitioner who almost always reaches for this modality first. However, the high prescription and flat corneas suggested that success would be challenging and time-consuming for everyone. I elected to pursue Peripheral Defocus Contact Lenses.
This led to an interesting decision. Usually, I would reach for CooperVision MiSight lenses as they have an indication approved by the FDA for slowing the progression of myopia.5 However, the high prescription was outside of the available parameters. Instead, I chose to use the VTI NaturalVue Enhanced Multifocal 1 Day contact lens, which I prescribed for her in the appropriate power after accounting for spherical equivalent and vertex distance.6 This lens does not specifically correct for astigmatism; however, I find that patients tolerate small amounts of residual astigmatism if it is below -1.25D, especially in patients with such a high level of myopia. In my experience, this does not affect the myopia management mechanism if the residual astigmatism is low.   
Given her high prescription and advanced axial length, I was mindful that a single modality might not be enough. Only time will tell.  
I routinely see my progressing myopia management patients on a 90-day basis. The quarterly follow-up was especially important in this case, considering her high axial length paired with her recent increase in prescription.  
At the 90-day visit, WG reported that she was doing well with the VTI NaturalVue Enhanced Multifocal 1 Day contact lenses. We measured the patient's axial length with the Oculus Myopia Master, an optical biometer with significantly more accuracy than our previous ultrasound A-scan technology.7 It is interesting to note that several studies have shown differences in accuracy and consistency of measurements when comparing optical biometry and ultrasound A-scan. However, results vary from study to study depending on the instrument, technique, and other factors.   
New AXL scans with the Myopia Master:
OD: 26.73 mm
OS: 26.86 mm
GW was doing well at this follow-up. The over-refraction was plano in each eye at this visit. This begs the question: Did her eye increase in axial length, or is this a measurement error between two different instruments? Sometimes in a clinical setting, it is best to measure twice before making a change, and I erred on the side of measurement error here. We asked that the child return to clinic in 90 days.  
Refraction: (six months since we started myopia management)
-10.00D -1.25D X 165 20/20
-10.50D -1.00D X 175 20/20
Axial length measurements using the Myopia Master: 
OD 26.76 mm
OS 26.91 mm
The refraction was increasing along with the axial length; however, the speed of increase appeared to be slowing somewhat. The findings left us with two choices. We could continue with the current program or add another myopia management modality to slow the progression further.  
In this case, I added a second modality to GW's myopia management program.8 After speaking at length with the parents about topical low-dose atropine, its usage in myopia management, expectations, and side effects, I chose to add 0.05% compounded low-dose atropine 1 drop qhs OU as a synergistic modality for slowing myopia progression.
I have had very good success combining low-dose atropine with peripheral defocus contact lenses. I often find that this combination has a synergistic effect that slows or, in some cases, halts myopia progression in otherwise stubborn cases.  
The subsequent 90-day follow-up (nine months since starting myopia management) delivered excellent news. The patient tolerated the 0.05% atropine well, with some mild complaints about brightness and nighttime vision. Manifest refraction was essentially stable at this visit. More importantly, axial length appeared to be stabilizing as well:
OD 26.77 mm
OS 26.90 mm
How will she progress going forward? Only time will tell, but the recent results are very positive, and I expect her progression to slow or stop with the combination of these two complementary modalities. I, for one, look forward to the next follow-up to see the results!
| | |
| --- | --- |
| | After graduating with honors in Pre-Optometry from Ferris State University, Dr. Matthew Martin attended the Michigan College of Optometry, graduating with honors in 1999. Dr. Martin has served the mid-Michigan area for 20 years, providing comprehensive care, managing ocular disease, and fitting specialty contact lens designs. He specializes in pediatric eye care and myopia management. Dr. Martin has been a Fellow of the International Academy of Orthokeratology and Myopia Control since 2003. He has served on the Leadership and Planning Board for this organization and currently serves on the Fellowship Testing Committee. In 2017, he presented at the Vision By Design Bootcamp for Newcomers, and he has since become a permanent member of the Bootcamp team. Dr. Martin is also a founding member of Mission Myopia Control, an implementation company, emphasizing education and implementation of myopia management in private practices. |
References