January 17, 2022
By Sheila Morrison, OD, MS, FSLS
ECPs all have to start somewhere. Start now. Connect with colleagues who are successfully including myopia management in clinical practice.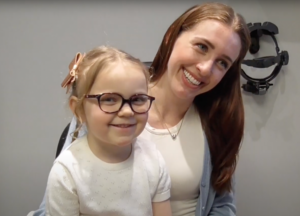 The foundation on which a successful myopia management program is built upon must include evidence-based clinical practice, a robust practice management plan, and good communication.
Myopia management is the current standard of care, like other ocular diseases and conditions. Globally, academic institutions that train eye care providers have long since incorporated training about myopia management into educational curriculum.1 For close to a decade now, the World Health Organization (WHO) has formally recognized myopia as a vision-threatening condition and does recommend eye care providers to assume clinical responsibility for addressing myopia in a way that can slow or halt progression of the condition.2,3
Information is Key
Many educators write and teach about the act itself of attaining knowledge. This may be the single most important step in getting started with myopia management. To reach patients, the chronology of knowledge gathering and dissemination of information flows from clinical and academic researchers to ECPs, to staff, and then finally to the parents or caregivers of patients who would benefit from myopia management. Today, information is readily accessible through credible databases, medical journals, private websites, blogs, re-posted articles, and open-source references. The eye care industry continues to play an invaluable role in driving communication forward through opportunities for continuing education and supporting research and development. Connecting with industry colleagues, myopia journals, and associations allows us to stay on the brink of current knowledge.  
Once a comprehensive and up to date understanding about myopia management has been established, the next step is to develop a clear vision within the practice. 
Who should be treated?
Consider all children potentially myopic.4 Screen and consider treating children or adolescents with risk factors including but not limited to genetics (one or both parents being myopic, or a sibling who is myopic)5 and any refractive error more myopic than the appropriate age-matched emmetropic norm (6 years old with less than +0.75D hyperopia or any minus refractive error in school-age).6
What are the goals?
There are three primary goals when treating myopic patients: (1) slow or halt progression of myopia; (2) provide optimal vision for daily activities; (3) ensure that a positive quality of life during myopia management is maintained, in addition to a positive visual outcome.
Where should myopia management be offered?
Myopia management belongs in all vision care practices. The scope of practice may vary depending on practitioner comfort level, expertise with contact lenses, and accessibility to equipment. In today's competitive market with easy access to online information, it is best to be competent in evaluating and discussing all therapies, even if they are not available. Referrals to colleagues may be indicated for desired treatments but may be outside of individual practitioner scope.  
When should intervention start?
Early intervention should always be considered for pre-myopes (+0.75D and <-0.50D in children where a combination of baseline refraction, age, and other risk factors are also present) and initiated for patients who present with any level of progressing myopia (< -0.50D in a relaxed accommodative state).7 Every diopter matters, and intervention for progressive myopia is better than no intervention at any age.8
Why should myopia management be incorporated into clinical practice?
The decisions that health and eye care providers make for children today affect their lives for the future. All levels of myopia increase the risk for ocular disease.9
How do we begin myopia management?
ECPs all have to start somewhere. Start now. Connect with colleagues who are successfully including myopia management in clinical practice. Have many conversations with industry partners to learn about equipment and products.
The conversation of myopia management comes next. The first and most important conversations are internal to ensure that all other vision care providers and staff are appropriately equipped to communicate with parents or caregivers to ensure buy-in for the value of a myopia management program. Training frontline staff is the key to creating excellent first impressions, which ultimately fills myopia management appointments and gains trust with a first encounter. Staff trained in basic myopia management theory and all office processes can also appropriately triage, provide appropriate educational resources endorsed by the ECP (office website, office-branded electronic handouts, etc), and go over fees in advance. This makes time spent with the ECP more efficient and effective at the time of an appointment. Empowering staff to do more is key to a successful myopia management practice
All providers must follow the same exam protocols and charge the same fees. Consideration of axial length measurements, cycloplegic refraction, corneal shape, binocular vision status, and a careful history should all be included whenever possible in evaluation protocols for myopia management.4,10 Exam fee structure, including professional fees for services and materials, must be set up in advance; it is important to profit after costs to support the expense of equipment, staffing, and ECP chair time. Expertise in myopia management should be highly valued. 
A final essential step to getting started is to be prepared for co-management with other health and eye care providers. As with any medical device or procedure, a thorough review of risks and benefits must be performed. Prioritize safety and compliance with the use of contact lenses and pharmaceuticals and be prepared with literature to support benefit over the risk of clinical decision making. 
Overall, the potential benefits of myopia control outweigh the risks of all treatments when used with compliance.11 This is something to be discussed confidently with parents/caregivers and other health care providers when getting a patient started with a myopia management program.
Sheila Morrison, OD, MS, FSLS,

 is an optometrist at Mission Eye Care Centre for Dry Eye and Corneal Disease and co-founded the Myopia Academy in Calgary. She previously served on the faculty at the University of Houston College of Optometry as a clinical instructor for the myopia control clinic and as chief of the Contact Lens and Cornea clinic at the University Eye Institute.
References