May 24, 2021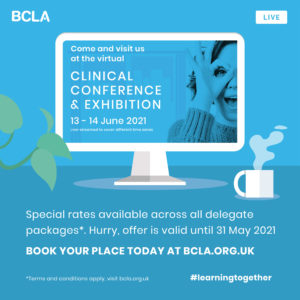 The British Contact Lens Association (BCLA) announced that U.S. eye care professionals can receive COPE credits for attending the BCLA Virtual Clinical Conference and Exhibition. The event will be held virtually on June 13 and 14, and attendees can earn up to 10 COPE credits by attending the sessions, which will focus on findings from the BCLA Contact Lens Evidence-Based Academic Reports (CLEAR).
BCLA CLEAR features 10 papers, each compiled by a panel chaired by internationally renowned experts. The topic areas and panel chairs are:  
Anatomy and Physiology of the Anterior Eye – Dr. Laura Downie 

Biochemistry of lens materials, coating, comfort drops, and solutions – Professor Mark Willcox 

Effect of lens materials/design on the anatomy and physiology of the eye – Professor Philip Morgan 

Specialty lenses – OrthoK – Professor Stephen Vincent and Professor Pauline Cho 

Specialty lenses – Sclerals – Dr. Melissa Barnett 

Contact lens complications – Professor Fiona Stapleton 

Medical use of contact lenses – Associate Professor Debbie Jacobs 

Contact lens optics – Dr. Kathryn Richdale 

Future applications of contact lenses – Professor Lyndon Jones

Evidence-based contact lens practice – Professor James Wolffsohn 
"This year's conference will be like no other, with a truly global reach. Going 'virtual' gives us the chance to bring BCLA CLEAR to every single nation, benefitting both practitioners and patients around the world," said BCLA Chief Executive Luke Stevens-Burt. "I am delighted that U.S.-based attendees will be able to earn 10 COPE points by attending our BCLA CLEAR sessions.
This was made possible by educational grants from Alcon and CooperVision. 
To learn more and register for the BCLA Virtual Clinical Conference and Exhibition, click here.
CooperVision is also sponsoring BCLA's Myopia Management Certificate, which provides eye care professionals with expert knowledge in the three main areas of myopia management: spectacles, contact lenses, and pharmacological interventions. 
"We are always keen to help our members improve their clinical expertise which in turn improves patient care; the Myopia Management Certificate does exactly that, and we are delighted to have CooperVision's support for the next 12 months," said Stevens-Burt. 
The Myopia Management certificate can be achieved by any optometrist or contact lens optician who attains seven credits and a final oral (viva voce) examination. The certificate will need to be renewed every three years, and BCLA membership must be maintained throughout this period.
The course is available to full members of the BCLA and is free to complete, including access to all course materials and additional resources. 
 "We are absolutely thrilled to be partnering with the BCLA for this course. Provision of high-quality education around myopia management is essential, and this qualification ensures practitioners are best placed to deliver up-to-date knowledge and best practice in this ever-evolving area," said Krupa Patel, Head of professional services at CooperVision.