April 30, 2021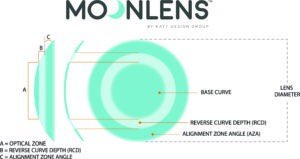 GRAND RAPIDS, Mich. – Eye care professionals currently fitting patients with MOONLENS OrthoK lenses will soon have an educational resource to help guide their work with these lenses. Art Optical announced that it will be releasing MOONLENS Fast-Fit Tutorials, which were designed to sharpen ECPs OrthoK skills.
Narrated and developed by specialty lens expert, Randy Kojima, the video series will provide a comprehensive look at this OrthoK system that ECPs can refer to over and over again. Conscious of the practitioner's busy schedules, each video is under 10 minutes.
"With the continued growth of orthokeratology for myopia management, we are excited to offer the new MOONLENS Fast-Fit Tutorials to today's busy eye care professionals certified in MOONLENS as an easy, efficient educational tool" said Jill Anastor, President of Art Optical.
To become MOONLENS certified and receive a link to the new MOONLENS Fast-Fit Tutorials, visit artoptical.com/mooncertification to get started or contact Art Optical for details at 1-800-253-9364.