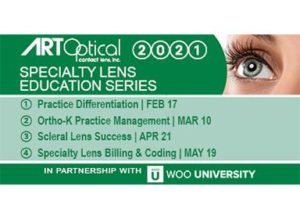 January 28, 2021
Specialty lens supplier Art Optical is working with Dr. Stephanie L. Woo, OD, FAAO, FSLS, to produce a four-part virtual education series focused on current trends in specialty contact lens practice. The one-hour webinars are free for eye care professionals and will be held monthly on Wednesday evenings at 8:30pm EST from February 17 through May 19.
A key opinion leader in eye care, Dr. Woo is owner of The Contact Lens Institute of Nevada, a clinic solely dedicated to custom contact lenses, and the creator of Woo University. In these webinars, she will share her extensive experience and bring her personal brand of contact lens excellence to help her fellow ECPs achieve specialty lens success. The webinar topics and dates are:
Practice Differentiation on February 17
OrthoK Practice Management on March 10
Scleral Lens Success on April 21
Specialty Lens Billing & Coding on May 19
To learn more, and to register, visit artoptical.com/news-events.