sponsored content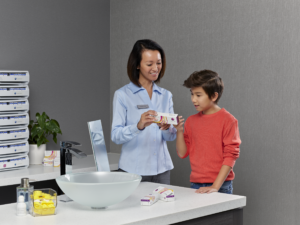 January 15, 2021
No matter the size of your practice space, there are ways to deliver superior myopia management. You need a strategy that sets you apart and has the best interests of patients in mind, both now and in the future. Here are two examples.
Annie Lee Kim, OD, practices at South Pasadena Optometric Group in South Pasadena, California. There are four ODs and four exam lanes, and on any given day, there are two optometrists in the office.
Even though most of her patients are age 40 and above, pediatric myopia care is a growing sub-specialty in her practice. Of the practice's total patient population, only about 4 percent are under 10 years old.
When it comes to vision correction and myopia management, "We pretty much provide the full scope" of care, she says. "The CooperVision MiSight® 1 day* soft contact lens is a myopia management option for children who are aged 8-12 at the initiation of treatment," she says. "We also do a lot of orthokeratology for athletic children who do better without a lens during the day."
"The most persuasive talking point in presenting MiSight to parents has been its FDA approval* and the amount of research that has taken place to prove its efficacy,"1† Dr. Lee Kim says. "This is the only FDA-approved* option out there. I tell them it's the latest technology and that it has been tested to be effective. Generally, this instills trust in the patients and the parents, and they are much more likely to proceed."
"Generally, the children we see in our practice are those of our adult patients, so the conversation begins with the parents who might have a child with myopia," she says. It's a receptive audience. "When I explain to them how the risks of myopia and related eye conditions such as retinal detachment and glaucoma2 go up as their child grows up, that's enough to get their attention."
"The parents appreciate the education we provide, and they will often begin myopia management when they first hear about it, or six months later after they've seen evidence that their child's myopia has progressed," she says. "Treating myopia is a financial investment, but they want what's best for their children."
Stephanie Castle, OD, bought Park City Vision in Park City, Utah, in 2017 after working there for six years. She's the full-time optometrist and has three exam lanes. She sees patients three days a week, while her practice partner, Taylor Blanco, OD, sees patients two days a week. It's not a large practice, so the patient count isn't high, about 16 patients per day. She estimates that she has about three dozen patients in myopia management.
Building the practice has meant making some investments. While no equipment is required to get started with the CooperVision Brilliant Futures™ Myopia Management Program, she enjoys offering more to her patients. Her biggest recent purchase is a Medmont Meridia topographer, which she bought earlier this year. "I was functioning with an older topographer, and while it was okay, this is a huge improvement," she says.  An optical biometer to measure axial length is next on the equipment shopping list.
She's certified to prescribe the Brilliant Futures Myopia Management Program with MiSight 1 day lenses. Even before receiving Brilliant Futures Certification this summer, she'd created a list of patients who might benefit from the MiSight 1 day lens.
She likes the MiSight 1 day lens option and offers it to age-appropriate patients with myopia who are generally 8 to 10 years old. "It's very straightforward when it comes to fitting the lens, and the FDA approval it received in 2019 helps parents feel comfortable with it," she says.
"When presenting MiSight to parents, I use the pamphlets provided by CooperVision," she says. "The infographics help explain myopia management easily and clearly. I also focus on the FDA approval,* and that helps drive the conversation."
Dr. Castle hopes to expand her practice's myopia service, because the need is out there in her community. "I would like to continue to grow this area of my practice," she says. "As optometrists we're in a unique position to help slow the progression of myopia and change people's lives. I love having the opportunity to present a real solution, rather than just updating an ever-increasing prescription."
This article is sponsored by CooperVision.
*Indications for use: MiSight® 1 day (omafilcon A) soft (hydrophilic) contact lenses for daily wear are indicated for the correction of myopic ametropia and for slowing the progression of myopia in children with non-diseased eyes, who at the initiation of treatment are 8-12 years of age and have a refraction of -0.75 to -4.00 diopters (spherical equivalent) with ≤ 0.75 diopters of astigmatism. The lens is to be discarded after each removal.
†Compared to a single vision 1 day lens over a 3 year period.
[1] Chamberlain P, et al. A 3-year randomized clinical trial of MiSight® lenses for myopia control. Optom Vis Sci. 2019; 96(8):556-67.
[2] Flitcroft DI. The complex interactions of retinal, optical and environmental factors in myopia aetiology. Prog Retin Eye Res. 2012;31:622-60.