August 31, 2021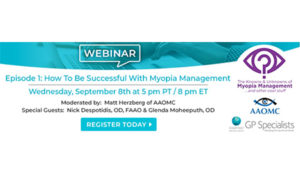 The American Academy of Orthokeratology and Myopia Control (AAOMC) announced the launch of a new myopia management podcast and webinar series: "The Knowns and Unknowns of Myopia Management…and other cool stuff in optometry."
Hosted and moderated by AAOMC Executive Director Matt Herzberg, the series is designed to generate dialogue and share different views on what we know and don't know about myopia management. With each new session and podcast, the goal is to create thought-provoking conversations that increase engagement of ECPs who are currently practicing or considering the introduction of myopia management into their practices.
Coming up on September 8 is the first webinar: "How to Be Successful with Myopia Management," which will be presented at 5pm Pacific/8pm Eastern. The session will be hosted by Herzberg and feature special guests Nick Despotidis, OD, FAAO, and Glenda Moheeputh, OD. The discussion will focus on three major topics: the critical financial aspects of myopia management, including costs, billing, equipment, insurance, and staffing; the ins and outs of building a myopia management practice from experts who have built their own; and strategies for creating a successful myopia management practice in both a corporate and private practice setting.
The second portion of the webinar will focus on a clinical topic, where attendees will hear from two experts in the field about choosing the right orthokeratology lenses for each patient. The conversation will be led by Leah Johnson, OD, FAAO, Director of Professional Affairs, CooperVision Specialty EyeCare, and Mark Cosgrove, General Manager, GP Specialists.
Registration for the webinar is now available here.