April 17, 2023
By Carolyn Lederman, MD
I've found that it's been helpful when talking to parents about myopia management to tell them that options are available. I explain that over the first 15 years of my career, we didn't have any of these options, and we could only monitor as prescriptions got stronger and stronger.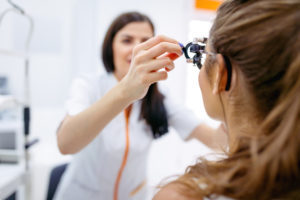 As a pediatric ophthalmologist, my myopia management practice has evolved along with the available treatments. Peer-reviewed studies started being published in the field of ophthalmology in 2006. We started practicing myopia management in our office about 10 years ago, prescribing patients topical low-dose atropine. We've followed the research very closely over the last decade, and in 2018, we also started prescribing soft multifocal contact lenses for myopia management.
I went to medical school at the University of Virginia and then completed my residency in general ophthalmology at the Manhattan Eye, Ear, & Throat Hospital. After that, I did my Fellowship in Pediatric Ophthalmology and Strabismus at Children's National Hospital in Washington, D.C., before joining my father in practice (he's also a pediatric ophthalmologist). I've been in private practice for over 25 years, and my dad is also still practicing, and we also have another associate in our office.
Keeping Myopia As Low As Possible
We care for all aspects of children's eyes — anything from the most mundane issues to the gravest possible conditions. However, juvenile-onset myopia is very prevalent, and certainly in our community, parents are very knowledgeable. They get concerned when they see their children's eyeglass prescriptions worsening. As physicians, we also get concerned as levels of myopia continue to increase over time. Knowing the potential ocular complications of myopia — especially high myopia — we have a strong interest in keeping myopia as low as possible. 
In addition, my glaucoma colleagues have called me to talk about the long-term risks and complications associated with high myopia. It's a priority for them, us, and our patients to have myopia stay as low as possible, and starting treatment early is the best way for that to happen. 
Making a Treatment Plan for Myopic Patients
Currently, in our office, we prescribe low-dose atropine in varying concentrations, as well as both CooperVision's MiSight 1 Day contact lenses and VTI's NaturalVue Multifocal 1 Day contact lenses. Choosing between the two contact lenses depends on the patient's corneal curvature because the two lenses have different parameters. We also consider the family's preference. Some families have heard of one or the other from advertising or their online research, and the fact that MiSight has gone through the FDA approval process sways the opinion of some families. However, this is always an in-depth conversation we have with patients and their families before making a final decision. 
I also always consider the child's age, maturity level, refractive error, and level of astigmatism. If they're on the younger side, we'll only talk about low-dose atropine. If they have higher levels of astigmatism, we'll also only talk about low-dose atropine. I only fit contact lenses for patients eight years old or older. When I feel that the child and family are ready to handle the responsibility of contact lenses, then we discuss that treatment option. If they have astigmatism greater than 1.00D, soft multifocal contact lenses will not be an option.  
At this point, it's a case-by-case basis whether we'll use combination treatments for our myopia patients. Based on the studies I've read, adding topical low-dose atropine to a soft multifocal contact lens isn't yet supported by the literature. However, since soft multifocal contact lenses and  low-dose atropine have  few potential side effects, if a child's myopia is progressing rapidly with one treatment and the situation is appropriate, I'll consider combination therapy. I have three patients under my care who are using combination treatments for myopia, and time and further studies are necessary to know if this will prove to be beneficial.  
Educating Families about Myopia Management
I begin discussing myopia management the first time I meet families who I predict will have myopic children. We talk about the importance of daily outdoor time and decreasing the prolonged use of smartphones. Then, once the child becomes myopic, I discuss each treatment option with the family. I find that parents who are high myopes themselves are particularly interested, but many of the families that come into our office are receptive to the conversation. We give families a handout we wrote that details each of the treatments. It also has information from the World Society of Pediatric Ophthalmology and Strabismus. I've also found that articles in the lay press are well received, and families like to read them. I include articles from The New York Times, The Wall Street Journal, and most recently, The Atlantic. 
I've found that it's been helpful when talking to parents about myopia management to tell them that options are available. I explain that over the first 15 years of my career, we didn't have any of these options, and we could only monitor as prescriptions got stronger and stronger. As busy medical doctors, we must be prepared that these conversations can be time consuming. We need to take the proper time to go through all aspects of myopia care with patients and their parents.
The cost associated with treatment has been particularly challenging when talking to families about myopia management. Medical insurance doesn't cover these treatments, so payment falls on the family to pay out of pocket. Also, low-dose atropine isn't offered at general pharmacies, and it needs to be compounded, which makes it more expensive than generic medications. While many families are receptive to starting treatment, the cost is one of the most significant barriers we face. 
Expanding Treatment Options in the Future
I'm very enthusiastic about increasing the reach of myopia management to greater numbers of children and adolescents. I'm particularly excited about the novel spectacle lens options that will hopefully soon be available in the United States. Though I haven't been able to prescribe them myself yet, having the option to treat myopic children with glasses will be game changing. Whether parents are skeptical about the long-term effects of low-dose atropine or children are too young or hesitant to start wearing soft contact lenses, novel spectacles will be a great way to initiate treatment for many children. 
| | |
| --- | --- |
| | Dr. Carolyn Lederman is a pediatric ophthalmologist practicing in White Plains and Purchase, New York, for over 25 years. She has been in private practice in partnership with her father for her entire career and is a Clinical Instructor at New York Presbyterian. She graduated from the University of Virginia School of Medicine, completed her ophthalmology residency at Manhattan Eye, Ear & Throat Hospital, and her fellowship in Pediatric Ophthalmology and Strabismus at Children's National Hospital. In addition to her medical and surgical practice, Dr. Lederman has served as President of the Greater New York Society for Pediatric Ophthalmology and Strabismus and Vice President of the Westchester Ophthalmology Society. She's currently the division chief of Ophthalmology at White Plains Hospital. |