sponsored content
December 15, 2020
By Maria Liu, OD, PhD, FAAO, Associate Professor of Clinical Optometry UC Berkeley, School of Optometry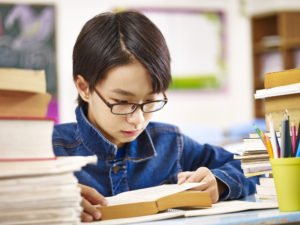 With some of the highest rates of myopia in the world, China has acknowledged this as a national health issue and made a concerted effort to delay its onset and slow its progression among that country's children. Could the United States be far behind?
Myopia Is Soaring in China*
In China, myopia has increased at a significant rate in recent years. While only 4.7 percent of children younger than 7 years old are myopic, prevalence soars to a stunning 80 to 90 percent once they reach 18 years of age. Considering all age groups, the prevalence of myopia in China was around 50 percent in 2010, which increased to 53.6 percent in 2018 and 57 percent in 2019, according to data from the National Health Inspection Commission.
Additionally, by the end of 2019, the prevalence of myopia in school-aged children and adolescents increased by 11.7 percent in the first half of 2020, with a 15.2 percent increase in primary school students, 8.2 percent in junior high school students, and 3.8 percent in high school students.
A 'Prevention and Control' Implementation Plan
Due to this drastic increase in both the prevalence and severity of myopia, on August 30, 2018, eight national departments jointly issued the "Comprehensive Prevention and Control of Myopia in Children and Adolescents Implementation Plan" with the goal of controlling the prevalence of myopia in the population of 6-year-olds or younger at about 3 percent by 2030. The effort has expanded to involve another seven governmental ministries.
Some Problems and Some Solutions
Parental awareness of myopia and its complications have also been increasing dramatically, resulting in earlier and more frequent self-elected screening and optometric exams for their children.
A noticeable proportion of parents are still under the impression that myopia is a condition that can be cured by applying certain treatments such as massage, acupressure, acupuncture, or special physiotherapy. Although the market of myopia management is somewhat chaotic in China, the government has taken action to ensure evidence-based options are recommended and utilized.
 The options for myopia management have become more diverse, with two more novel myopia-control spectacle designs, DIMS by HOYA and Stellest by Essilor, becoming commercially available, as well as a lens solution from Zeiss.
The number of designs of overnight OrthoK lenses continues to increase, and there are currently several multifocal soft contact lens/multifocal gas permeable contact lens clinical trials in progress. Low-dose atropine remains unavailable in China as an option for myopia management.
Cost of Treatment
The fee modality for myopia management treatments in China is heavily biased toward the purchase of the material rather than service fees. As a result, parents and patients predominantly perceive the cost of the treatment as the cost of the devices.
The cost of each type of myopia management treatment varies significantly by cities and hospitals and is currently not in the scope of medical insurance. (There is no vision insurance in China).
The cost of novel anti-myopia spectacles ranges from $300 to $700 a pair. The cost of OrthoK treatment ranges from $900 to $2,200 per year in most areas of China.
Recommended Actions of All Relevant Parties
Here are some highlights of the many ways in which the "Implementation Plan" is encouraging parents, schools, medical and health institutions, and government agencies in China to get involved to delay the onset of myopia and slow its progression.
 What Can the U.S. Learn?
That's what government agencies, medical and health institutions, schools, and parents are doing to help delay the onset and slow the progression of myopia in children in China. How does this compare with what's occurring and how eye care professionals are reacting in the United States, and what can they learn?
In order to truly tackle myopia from as early an age as possible and have the best possible outcome, the major similar change we can expect in the Western world related to the management of myopia is the need for a combined effort from all relevant parties, rather than just the parents and the pioneer practitioners.
Maria Liu, OD, PhD, FAAO, is Associate Professor of Clinical Optometry at UC Berkeley, School of Optometry. This article is sponsored by Essilor of America.
*Resources
Chinese Ministry of Education. Published 2020 Aug 8. Survey of 14,532 students from nine provinces with overall prevalence of myopia compared to 2019 Dec.
Li L. National Visual Health Report. Beijing: Peking University Press, 2015. Print.