July 1, 2022
By Dwight Akerman, OD, MBA, FAAO, FBCLA, FIACLE
Myopia is a leading cause of visual impairment and has raised significant global concern in recent decades with rapidly increasing incidence and prevalence worldwide. Hundreds of peer-reviewed and non-peer papers are published monthly on every aspect of myopia. For example, as of this writing, if you enter the terms "myopia" and "2022" into PubMed, 1,051 results are displayed.
To stay at the forefront of knowledge and provide the best evidence-based patient care, attending myopia-related continuing education courses and reading as many articles as possible is essential. As the Chief Medical Editor of Review of Myopia Management, I must keep up with new publications, so I read dozens of myopia papers each month. A memorable data point, quote, or fact from an article frequently sticks with me. The following lists some of my favorites (in no particular order):
I urge you to read the myopia literature regularly to ensure that you are up to date on the latest knowledge, commit to the highest level of patient care, and prescribe the most appropriate evidence-based interventions to children at risk of progressive myopia. It's your professional responsibility.
Best professional regards,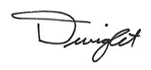 Dwight H. Akerman, OD, MBA, FAAO, FBCLA, FIACLE
Chief Medical Editor
dwight.akerman@gmail.com